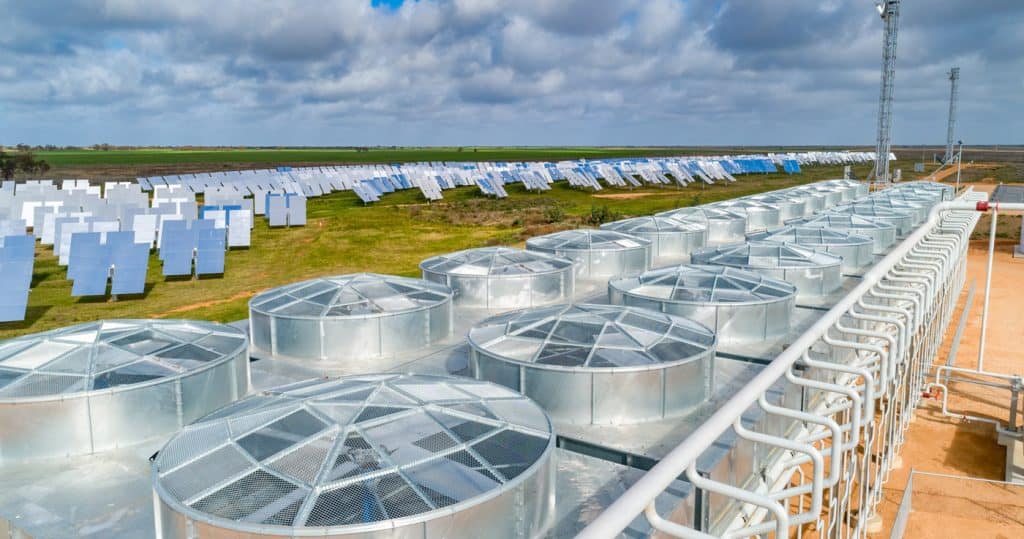 Tuesday, 8th June 2021
Melbourne, Australia
RayGen Resources Pty. Ltd. (RayGen), an Australian deep-technology originator and developer of innovative solar-plus-storage projects, today announced it has successfully secured major funding as part of a Series C Capital Raise. The A$27 million private funding includes strategic investments by AGL Energy (ASX: AGL), Photon Energy NV (WSE&PSE: PEN), Schlumberger (NYSE: SLB), and Chevron (NYSE: CVX), alongside new and existing investors. The private funding has been supported with A$15 million of non-dilutive, recoupable grant funding by the Australian Renewable Energy Agency (ARENA).
A major challenge facing the global electricity sector is how to integrate intermittent renewable generation while preserving the reliability, security and affordability of electricity supply. Correlated power generation of solar projects in renewable energy zones (REZs) leads to curtailment, local grid congestion and falling wholesale market prices, as has been seen in the West Murray grid. There is a need for longer duration storage, at 6-8 hours or more, located in the REZs. Longer duration storage can also play a key role in the green hydrogen and ammonia export economy, by increasing utilisation and reducing cycling of electrolysers. RayGen provides longer duration storage with low cost and easy-to-site hot and cold water reservoirs, that would otherwise be provided with lithium ion battery cells or pumped hydro reservoirs.
For its solar-plus-storage projects, RayGen integrates its patented PV Ultra technology, a concentrating photovoltaic solar co-generation tower, with its patent pending electro-thermal storage, comprising water-based pit thermal energy storage, organic Rankine cycle turbines and industrial chillers. The PV Ultra technology has six years of successful operation at RayGen's facility in Newbridge, Victoria.
Series C funding will be used to build, commission, and operate the RayGen Power Plant Carwarp (RPPC), which will add 4MW of solar and 3MW / 50MWh (17 hours) of storage to the West Murray grid. Construction has started on the RPPC, which will be one of the world's largest and lowest cost next generation storage projects. The project will be wholly owned by RayGen and is expected to reach commercial operation date in 12 months, with an operational design life of 30 years. Proceeds from the raise will also be used to design and build a new 100MW p.a. module manufacturing line (expanding existing capacity from 25MW to 125MW p.a.), as well as enable project development of a pipeline of 1GWh+ projects to financial close.
The strategic investments include extensive collaboration to accelerate deployment of the technology. AGL has provided an offtake for RayGen's RPPC and is collaborating on a feasibility study for the RayGen technology at AGL's Liddell facility. Schlumberger New Energy and RayGen have executed a Joint Development Agreement for works to enhance the RayGen system design and pre-feasibility studies for large green hydrogen and ammonia export projects. Photon Energy and RayGen have been developing projects in Australia and internationally.
"We are thrilled to be partnering with such respected global companies as we deploy our technology and grow our business" said Richard Payne, Chief Executive Officer of RayGen. "We are thankful for the outstanding commitment and support from all of our existing and new shareholders, who share our vision to accelerate the global transition to decarbonised energy with our innovative technology".
"AGL is committed to leading the business of transition and developing the future of renewable energy storage at scale, ensuring Australian households and businesses have affordable, sustainable and reliable electricity," said AGL Managing Director and CEO, Graeme Hunt. "RayGen's technology has the potential to provide the same capabilities as other long duration storage technologies at lower cost and with fewer geographical constraints. We believe the technology can be just as successful in the Hunter region and a key feature of our plans to transition the Liddell site into an Energy Hub, alongside grid-scale batteries and a waste to energy facility."
"We are delighted to participate in another investment round with RayGen tackling the problem of intermittency of renewable energy, with this ground-breaking long duration solar energy storage technology," said Michael Gartner, Managing Director of Photon Energy Australia and CTO of Photon Energy Group. "We are excited to participate in this round alongside investors such as AGL Energy, Schlumberger New Energy and Chevron Technology Ventures as it validates our initial investment and we are convinced that the financing secured will help RayGen deliver their exciting projects."
"We are excited to welcome RayGen into Schlumberger's New Energy venture portfolio," said Tyler Durham, Director CCS, Schlumberger New Energy. "RayGen's innovative integration of solar and long duration energy storage shows great promise as a reliable and environmentally friendly energy source across a variety of industrial processes. We look forward to exploring applications of the technology across areas of interest for Schlumberger's New Energy division alongside RayGen's talented team and our top tier co-investors."
"RayGen's technology has the potential to impact long-duration energy storage and grid stability," said Barbara Burger, Vice President, Innovation and President of Technology Ventures at Chevron. "We are excited for this latest investment from our Future Energy Fund II which focuses on start-ups with low carbon technologies with potential to play a critical role in the future energy system, and we welcome RayGen to this portfolio."
MaxEn Capital Advisors of New York acted as financial advisor to RayGen on the transaction, led by Senior Managing Director Howard Margulis.
About RayGen
RayGen Resources Pty. Ltd. is an Australian technology company with world-leading capability in the next generation of solar power and electricity storage. RayGen's solution consists of RayGen's proprietary PV Ultra solar co-generation, and electro-thermal energy storage technologies. The technologies are designed in Melbourne, Australia and are protected by six patent families. RayGen has an experienced team of 35 staff in Melbourne and Bendigo, Australia, working across engineering, manufacturing, operations and commercial functions. In 2015, the first PV Ultra project began supplying power to farms near Bendigo and has now been operating at high performance for six years. RayGen has built and sold 1MWAC (3MWco-generation) of PV Ultra projects supported by power purchase agreements. RayGen develops and manufactures its high-efficiency solar modules at its 25MW manufacturing facility in Melbourne. For more information, please visit www.raygen.com.
About AGL
Proudly Australian for more than 180 years, AGL supplies around 4.5 million energy and telecommunications customer services. We're committed to becoming a leading multi-product retailer, making energy and other essential services simple, fair and transparent. AGL operates Australia's largest private electricity generation portfolio within the National Electricity Market, comprising coal and gas-fired generation, renewable energy sources such as wind, hydro and solar, batteries and other firming technology, and gas production and storage assets. We are building on our history as Australia's leading private investor in renewable energy to now lead the business of transition to a low emissions, affordable and smart energy future in line with the goals of our Climate Statement. We have a passionate belief in progress and a relentless determination to make things better for our communities, customers, the Australian economy and our planet.
About Photon Energy Group
Photon Energy Group delivers solar energy and clean water solutions around the world. Its solar power services are provided by Photon Energy; since its foundation in 2008, Photon Energy has built and commissioned solar power plants with a combined capacity of over 100 MWp and has power plants with a combined capacity of 74.7 MWp in its proprietary portfolio. It is currently developing projects with a combined capacity of over 530 MWp in Australia, Hungary, Poland and Romania and provides operations and maintenance services for over 300 MWp worldwide. The group's second major business line, Photon Water, provides clean water solutions including treatment and remediation services, as well as the development and management of wells and other water resources. Photon Energy N.V., the holding company for Photon Energy Group, is listed on the Warsaw, Prague and Frankfurt Stock Exchanges. The company is headquartered in Amsterdam, with offices in Australia, South America and across Europe. For more information, please visit www.photonenergy.com.
About Schlumberger New Energy
Schlumberger is the world's leading provider of technology to the global energy industry. Schlumberger New Energy explores new avenues of growth by leveraging Schlumberger's intellectual and business capital in emerging new energy markets, with a focus on low-carbon and carbon-neutral energy technologies. Its activities include ventures in the domains of hydrogen, lithium, carbon capture and sequestration, geothermal power and geoenergy for heating and cooling buildings. Find out more at www.slb.com/newenergy.
About Chevron Technology Ventures
Chevron Technology Ventures (CTV) pursues and invests in externally developed technologies and new business solutions that have the potential to enhance the way Chevron produces and delivers affordable, reliable, and ever-cleaner energy. For more information, please visit www.chevron.com/technology/technology-ventures.