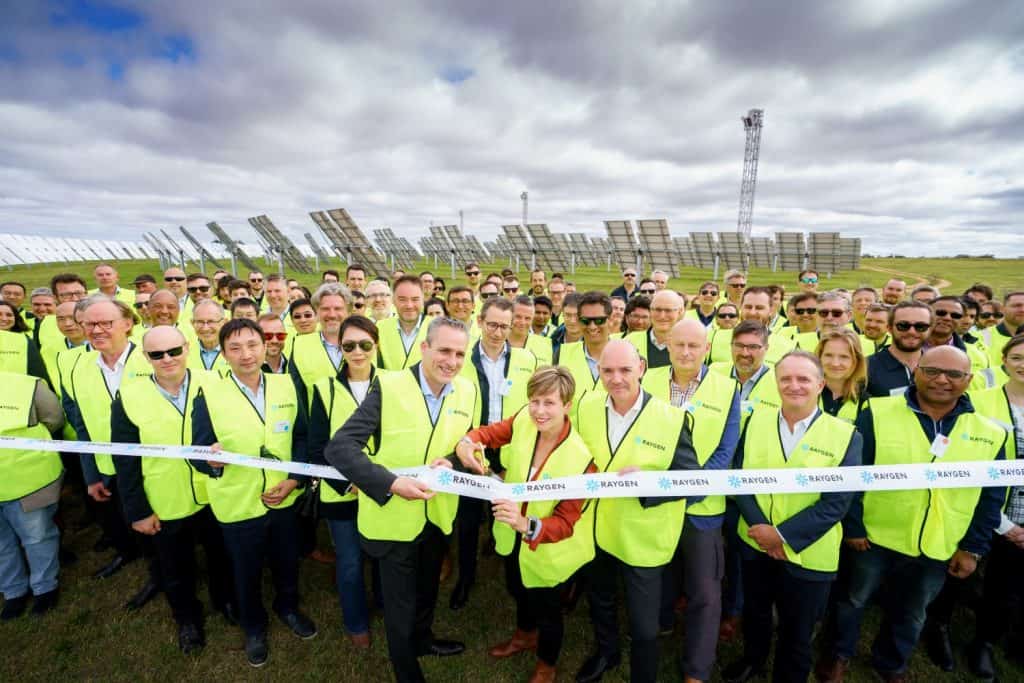 In just four years, RayGen has progressed from 'whiteboard' concept to leader in the LDES category.
August 31, 2023 – Australian solar-and-storage company RayGen declared the world's largest next-generation long duration energy storage (LDES) project open in a ceremony today, offering fresh hope for the energy transition in Australia and internationally.
The RayGen Power Plant, in Carwarp, Victoria (near Mildura), with 4MW of solar and 2.8MW / 50MWh of storage is also the world's highest efficiency solar photovoltaic project operating at utility scale and contracted to one of Australia's largest utilities, AGL Energy. RayGen, founded in 2010 to develop hi-tech solar, introduced our LDES thermal storage concept to the market in 2019.
The project recently achieved the status of 'commissioning complete' – the final project-related milestone with the Australian Renewable Energy Agency (ARENA)1 . RayGen's Carwarp project has been exporting electricity day and night, and has been charging our storage from our solar and from the grid. All component systems have demonstrated performance against specification. The offtake agreement with AGL will soon come into effect.
Today, RayGen is pleased to welcome an additional $10 million in grant funding from ARENA to accelerate RayGen's pipeline development and industrialisation. The Carwarp project generated over 30 jobs during construction and will provide 5 ongoing jobs. Future projects will help to lower power bills for Australian energy consumers and generate jobs for Australia's regions and cities in operations, advanced manufacturing and engineering design. RayGen's alternative approach to energy generation and storage avoids polysilicon, lithium, cobalt and nickel, and supports system strength of the grid.
The additional investment from ARENA comes as RayGen's modular, integrated design for hi-tech solar and thermal storage is being applied to multi-GWh projects. Photon Energy Group recently advised its investors of the progress of the Yadnarie project in South Australia towards 'ready-to-build' status, as well as over 1.2GW of projects in development. AGL Energy is developing a RayGen project opportunity at the former Liddell coal-fired power station, with other opportunities in development. SLB is also a key investor and is collaborating with RayGen on its technology development to support project opportunities in Australia and internationally.
"Our pipeline is part of the energy transition of this country," said Richard Payne, CEO of RayGen. "RayGen's new approach complements other established solutions and offers the lowest cost pathway to a zero-carbon grid. In just four years, we have progressed from a concept for dispatchable renewable energy to a utility-scale reality. Through our investor partnerships, we are developing projects across the world."
Officially opening the project was Senator the Hon Jenny McAllister, Assistant Minister for Climate Change and Energy. Also in attendance, representing ARENA, were Chairman Justin Punch, CEO Darren Miller and CFO Ian Kay, representing SLB, President New Energy Gavin Rennick and President Asia Amy Chua, representing AGL Energy, COO Markus Brokhof, representing Photon Energy, co-founders Michael Gartner and Georg Hotar, representing Chevron, GM Energy Transition Australia David Fallon, and representing Equinor, Senior Investment Manager Fredrick Støa, alongside local and international suppliers, neighbouring farmers and RayGen's over 60 person team.
Additional quotes from RayGen Chief Executive Officer Richard Payne
"RayGen is thrilled to welcome Senator McAllister and distinguished guests from our global partners for this momentous occasion. We could not have done this without the ongoing support of the Australian Federal Government and our partners, Equinor Ventures, SLB, AGL Energy, Photon Energy Group and Chevron Technology Ventures. We are delighted to share this occasion with you.
"Four years ago, we entered the storage market with an idea, an Excel model, and a cold call to AGL. Today, we're opening the world's largest next-generation long duration energy storage project, backed by some of the biggest names in energy. This feat demonstrates just how extraordinary our team is at RayGen – and why I am so proud of the hard work, commitment and ingenuity shown by everyone at RayGen over many years.
"This project has validated the performance of our modular system at utility scale. At the same time, the project has provided valuable, real-world 'lessons learned' which have been incorporated into the development of much larger projects.
"The new funding agreement with ARENA will allow us to industrialise our supply chain, progress engineering for larger projects, and accelerate down the cost-curve. We'd like to extend our thanks to Justin, Darren, Ian and the broader ARENA team for the critical role they play in Australia's energy transition and we look forward to the next chapter of our relationship.
"Successfully delivering this project is simply an outstanding result and provides a launching pad to deploy much larger projects."
About RayGen
RayGen Resources Pty. Ltd. is an Australian technology company backed by investment from Equinor, AGL Energy, Photon Energy Group, SLB, Chevron Technology Ventures and the Australian Renewable Energy Agency (ARENA). RayGen's hi-tech solar and thermal storage solution is designed and manufactured in Melbourne, Australia and protected by six patent families. RayGen has an experienced team of over 60 staff.
ARENA funding agreement for 'RayGen Solar Power Plant Demonstration', as part of Advancing Renewables Program (ARP) https://arena.gov.au/projects/raygen-solar-power-plant-demonstration/ ↩︎