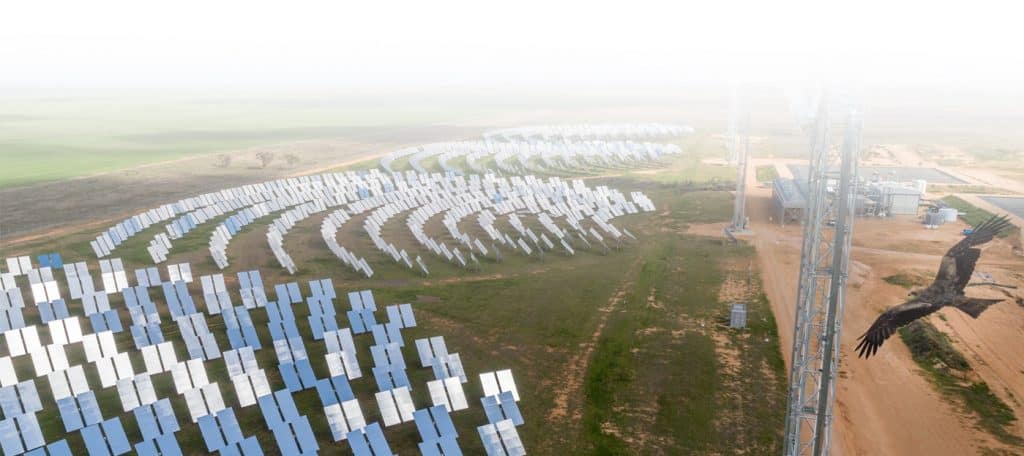 RayGen Resources Pty Ltd (RayGen) has recently formalised an agreement for $3 million in funding from the Australian Renewable Energy Agency (ARENA) to conduct a technical and commercial feasibility study for a flagship solar-plus-storage project to be built at Carwarp in north-west Victoria.
RayGen is proposing to build a fully dispatchable renewable energy facility that will deliver 4MW of solar generation and 3MW/50MWh (17 hours) of storage. This project will provide the National Electricity Market with day-night renewable electricity and support grid reliability. The project will also supply synchronous power where it is critically needed in the West Murray region.
RayGen has partnered with AGL and GHD to conduct commercial and technical assessments of the project and consider the future applications and cost of this technology.
The funding from ARENA will support RayGen to take the project to financial close and make it shovel ready for construction. RayGen is expecting to reach financial close and commence construction of the project this year, with the aim to have the facility commissioned in 2021.
The project will be the world-first deployment of a low-cost electricity storage technology in Victoria that:
– Delivers low-cost, long duration energy storage, already less than half the cost of batteries for 10 hours of storage;
– Produces near zero e-waste with a solution mostly mirrors and water;
– Generates power with a synchronous heat engine (Organic Rankine Cycle);
– Stores electricity with approx. 70% round-trip efficiency;
– Provides full depth of discharge and zero degradation of storage medium (water) with cycling; and
– Enables dual use with agricultural grazing beneath the solar field.
RayGen's technology presents a unique opportunity to accelerate the global clean energy transition with a product that captures sunlight with mirrors and stores energy in water. RayGen's proprietary technology supports the Australian advanced manufacturing sector, with locally produced control software and high-performance solar modules.
RayGen CEO Richard Payne said: "Australia's energy transition will require storage solutions that can store power cost-effectively for hours, days or weeks and be deployed at large scale around the world.
"RayGen has developed an innovative solar-plus-storage product that captures sunlight with mirrors and stores energy in water. Our technology provides firm renewable power at low cost, while conserving natural resources and our environment.
"We would like to thank ARENA and our project partners in AGL and GHD for their support on this exciting project."
About RayGen
RayGen Resources is an Australian technology company with world-leading capability in the next generation of solar power and electricity storage. RayGen's "Solar Power Plant" consists of RayGen's proprietary PV Ultra (solar co-generation) and Thermal Hydro (electro-thermal storage) technologies. These technologies are designed in Melbourne and are protected by six patent families.
RayGen has an experienced team of 30 staff in Melbourne and Bendigo, working across engineering, manufacturing, operations and commercial functions. In 2015, our first PV Ultra project started supplying power to farms near Bendigo in Victoria and has now been operating with high performance for five years. RayGen has built and sold 1MWAC (3MWco-generation) PV Ultra projects supported by power purchase agreements. RayGen develops and manufactures its high-efficiency solar modules at its 25MWAC manufacturing facility in Melbourne.
RayGen's website: www.raygen.com